Print On Demand
The term Print-On-Demand implies getting what you want, when you want it, in the specific quantity you need, and with the most up-to-date content.

Did you know that every year thousands of documents are thrown away because of content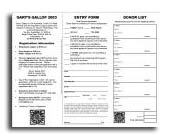 obsolescence? Print-On-Demand solves this problem by allowing you to order only in the quantities you need and get them when you need them.

By allowing our staff to maintain your documents on our document servers, we can guarantee that the content of your documents is the most up-to-date, and that we can immediately print the quantity you need.

Another benefit of maintaining your documents on our servers is that we can easily customize presentations, manuals and brochures to more effectively deliver your message to your target audience.